Synergiz, Microsoft's only GOLD partner in France for Mixed Reality, is proud to have received the "Enterprise & Productivity Solution" award from Laval Virtual for its software solution Synergiz Harbor.
Laval Virtual 2023: Our Award-Winning Experience
Founded in 2011, Synergiz has always been at the forefront of technology. When Synergiz teams discovered the first ever mixed reality headset HoloLens in 2015 at Microsoft's Redmond campus in the United States, they were among the first to introduce it in Europe in 2016. From then on, Synergiz quickly delivered more immersive and innovative experiences to its clients starting with the Moët Hennessy group. This is how the strong collaboration between Synergiz and Microsoft comes to life as Synergiz greatly contributes to evangelizing the market on this emerging technology. In 2018, Synergiz was recognized by the Microsoft Mixed Reality Partner (MRPP) label and three years later Synergiz was the only company to receive the GOLD level MRPP label in France for its expertise. In addition, Synergiz is an official HoloLens reseller and integrator of Microsoft Dynamics 365 solutions.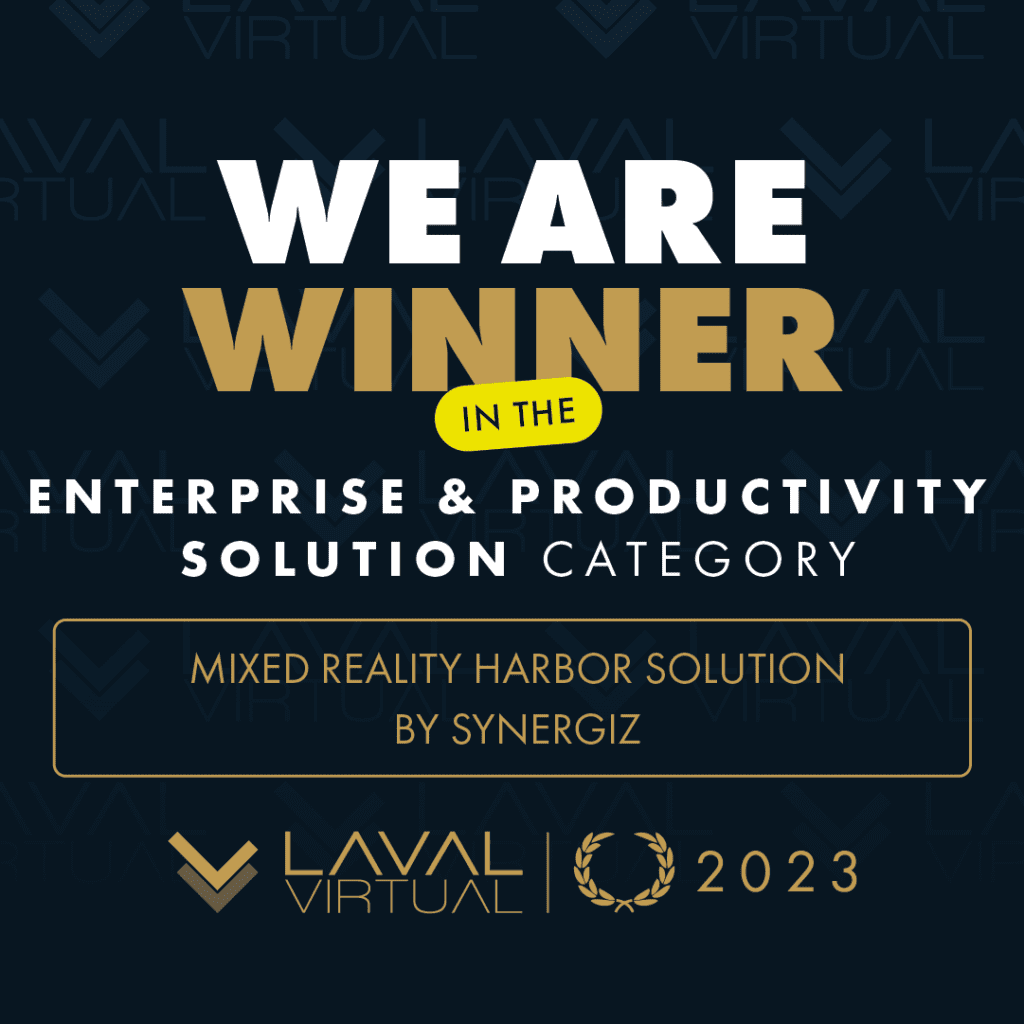 The ambition of the expert from Saint-Malo does not stop there. From 2020, Synergiz publishes its own hardware solutions (HoloKase all-in-one kit) and starts the development of its software solutions (Synergiz Harbor). It is with great pride that Synergiz has been awarded the Laval Virtual prize in the "Enterprise & Productivity Solution" category for Synergiz Harbor.
Synergiz Harbor is a complete out-of-the-box software solution that addresses the needs of collaborative content management and 3D visualization within an enterprise. It is based on both HoloLens and a cloud-based platform (Microsoft Azure) and offers quick and easy deployment of mixed reality to meet business challenges and priorities. In detail, it consists of:
Harbor Player +: an application installed on HoloLens that allows collaborative visualization of 3D assets and various multimedia content for training purposes, where all elements are shared between multiple participants and this can be done locally or remotely.
The second element is Harbor Platform: a global enterprise platform to store, secure and deploy content and manage the governance of its data.
In order to provide the best possible user experience, Synergiz Harbor is constantly being enhanced with new features. Recently, Synergiz announced the integration of 3D volumetric captures in collaboration with Extensible Studio, which allows for the projection of perfect human digital twins. The quality of this human video-reality rendering opens the door to many use cases: guide during an augmented tour, presentation of a work by its author, training content hosted by a renowned professional, on-site reception by a brand host, dynamic product presentation, etc…
"We have been strong believers in mixed reality and the HoloLens headset since day one. In building our software and hardware solutions, we not only implement mixed reality projects for companies but also support them in training and change adoption. At Synergiz, we believe that Mixed Reality is a source of transformation towards more efficient but also more sober and virtuous practices. Receiving such an award from a jury of recognized professionals at Laval Virtual is a great accomplishment for the Synergiz teams," says founder and CEO Fabrice Barbin.
Press contact : Lauren Herbert – lherbert@synergiz.com